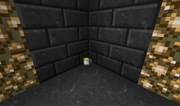 Zero is an item that is unable to be crafted or made, and must be spawned in using the command (below) or through the NEI menu.
/give <username> 30107 1 0

Zero uses the same sprite as Watery Soup Brew, so it looks the same. Zero does not have any effects, but gives back a Stone Mug.
The ID for Zero is 30107, with a data value of [not specified] or 0. This is the same ID (but with different data value) as Rum and Watery Soup Brew.
Ad blocker interference detected!
Wikia is a free-to-use site that makes money from advertising. We have a modified experience for viewers using ad blockers

Wikia is not accessible if you've made further modifications. Remove the custom ad blocker rule(s) and the page will load as expected.