Water Tank Siding is used in the construction of Water Tanks, similar to the configuration of a Coke Oven. When the banded planks are arranged in the correct order, a water tank will be constructed.
Other than this use, the block doesn't have much use, though it should not be used as a decoration because it may cause lag in a server or single player world, as it regularly checks to see if it forms a complete water tank, similar to a Coke Oven.
Recipe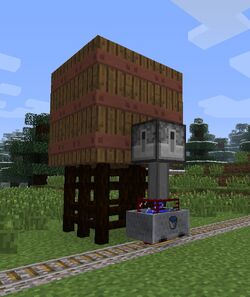 Ad blocker interference detected!
Wikia is a free-to-use site that makes money from advertising. We have a modified experience for viewers using ad blockers

Wikia is not accessible if you've made further modifications. Remove the custom ad blocker rule(s) and the page will load as expected.