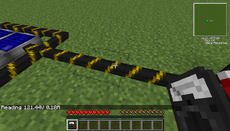 The Voltmeter is a piece of equipment from the RedPower2 mod that can be used to check the Blutricity voltage and the current passing through a wire. 
If you right click on a piece of Blue Alloy Wire or a RedPower2 Machine (as they also act as wires), it tells you the voltage and current reading in Volts and Amperes. However, many of them, especially wires, will show double the amount thanks to a bug when connected to input/output. Small fluctuations in the readings are normal. These happen as the blulectric setup attempts to reach an equilibrium between all wires and blocks.
Note that the voltmeter does not work on devices like Nuclear Reactors or Cables, because these are part of IndustrialCraft. The EU-Reader is the correct tool to use with these blocks.
Recipe
Ad blocker interference detected!
Wikia is a free-to-use site that makes money from advertising. We have a modified experience for viewers using ad blockers

Wikia is not accessible if you've made further modifications. Remove the custom ad blocker rule(s) and the page will load as expected.