In this tutorial, I will show you how to work with stackable power flowers to save on space and make it easily expandable depending on the resources you have at the time.
Materials For One Flower:
16 Redstone Pneumatic Pipes
Instructions:
For the bottom layer, you can set it up with the picture above. Under the filters are Energy Condensers with diamond in the target. Under each glowstone is an Energy Collector. The redstone piping is connected to a single timer that pulls everything up.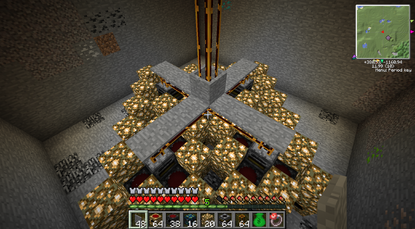 For anything but the bottom layer, you need to add stone covers to not have diamonds fill every space in your relays and condensers.

On top of those, place the Energy Collectors, Antimatter Relay and Energy Condenser in the order shown.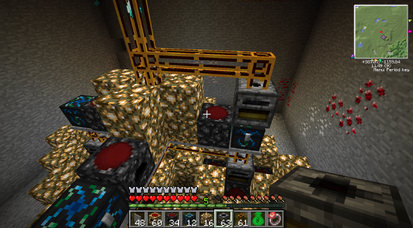 Then, add one glowstone on top of the Energy Collector, and place a redstone pipe to connect to a filter above the Energy Condenser. At this time, place the diamond in the target of the condenser.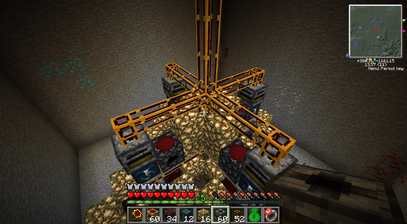 Repeat this for all the other sides and you will have the core to your stack complete!
You can then surround the rest of the Energy Condenser with the Antimatter Relays and surround those with the collectors. It is fairly simple, but I will update with photos soon. The pipe feeds into a single Energy Condenser that has a Red Matter for it's target. And then pumps out the Red Matter into a storage array. (Pics to come)
A single timer is needed at around 1s to pull all the diamonds out. Just connect some wire up to the piping and you are good to go! Enjoy your Red Matter!
Ad blocker interference detected!
Wikia is a free-to-use site that makes money from advertising. We have a modified experience for viewers using ad blockers

Wikia is not accessible if you've made further modifications. Remove the custom ad blocker rule(s) and the page will load as expected.