This tutorial will show you how to make a simple alarm system. (It's similar to the Easy Passworded Door)
All you will need for this is: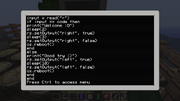 -One Computer
-One Industrial Alarm
-One Door
The Code:
-- Alarm System
-- Written by Galxis
-- Posted to The Tekkit Wiki on 11/16/2012

os.pullEvent = os.pullEventRaw
term.clear()
term.setCursorPos(1, 1)
code = "example"
write("Welcome! Please enter the Code!: ")
input = read("*")
if input == code then
 print ("Welcome back!")
 sleep(2)
 rs.setOutput("right",true)
 sleep(3)
 rs.setOutput("right", false)
else
 print ("Good Try! ;)")
 rs.setOutput("left", true)
 sleep(10)
 rs.setOutput("left", false)
 os.reboot()
end

(The Door is on the right Side, the Industrial Alarm on the left Side of the Computer)
Ad blocker interference detected!
Wikia is a free-to-use site that makes money from advertising. We have a modified experience for viewers using ad blockers

Wikia is not accessible if you've made further modifications. Remove the custom ad blocker rule(s) and the page will load as expected.