You've seen it, The mod that adds EMC which can duplicate items, and add a good currency system for servers. but how to get started? Luckily. this tutorial will tell you how to get started in the Equivalent Exchange mod.
1. Start out like any vanilla Minecraft world. Along the way you might notice some new ores which might include copper, tin, uranium, rubies, sapphire, emerald, silver, tungsten, and nikolite. You could mine these, but right now we're going for EE so we don't need them.
2. Collect LOTS of Diamonds (10-15 at least). You will need them for a lot of crafting recipes.
3. Make all 3 tiers of Covalence Dust (one of the items available with EE). Crafting recipes:
4. Make a Diamond Pickaxe, and mine some Obsidian (at least 20 blocks).
5. Make a Nether Portal. and get some Glowstone (as much as you can). Store this for later
6. Make an Alchemical Chest. Crafting recipe:
7. Upgrade to an Energy Condenser. Crafting recipie:
8.The GUI looks like this: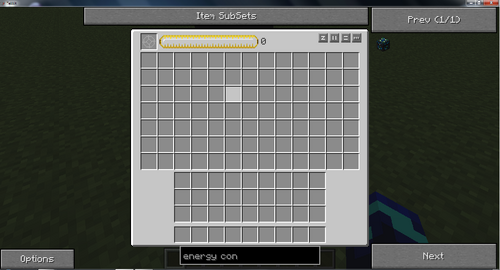 In the upper left slot with the faded target, put the item you want to duplicate (Must have an
EMC
Value). In the chest-like area, put another item (with an EMC Value that's not that high) and you will notice the bar by the target go up or the item will duplicate.

9. Craft an Energy Collector. This is used for gathering EMC from light. Place it next to the Energy Condenser. All the energy collected will go into making your target item.
10. The collector automates things a bit, but its very slow.So i would mine some more diamonds(You can put some in the condenser while your in a no afk machine overnight and you'll get a few overnight, but thats time-consuming) until you have at least half a stack. Then you can make an Energy Collector MK2 like so:
Craft Aeternalis Fuel like so:
First you need a Philosopher's Stone. Craft it like so:
Then gather LOTS of coal (like maybe a double chest full?)
And craft your wayy up to  Aeternalis Fuel  like so:
First you need Alchemical Coal. Craft like so:
Shapeless.
Then use that to make Mobius Fuel. Craft like so:
Shapeless.
Then finally use that to make Aeternalis Fuel. Craft like so:
Shapeless.
Use that stuff to make Dark Matter. Craft like so:
Then Craft a  MK2 collector like so:
Craft a bunch of these.
To be continued.
Ad blocker interference detected!
Wikia is a free-to-use site that makes money from advertising. We have a modified experience for viewers using ad blockers

Wikia is not accessible if you've made further modifications. Remove the custom ad blocker rule(s) and the page will load as expected.