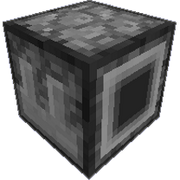 The
Train Dispenser
is similar to the
Cart Dispenser
, but instead of deploying single
Minecarts
 it can deploy entire trains. It is activated with a
Redstone
signal.
The Train Dispenser looks similar to the Cart Dispenser, though the side texture is somewhat different.
The GUI has two sections. The top section defines the pattern of the train to be spawned with a sequence of carts from left to right. The lower section is for storage of minecarts to build the train. The Train Dispenser will only spawn a train if enough minecarts are in the buffer.
Recipe
Ad blocker interference detected!
Wikia is a free-to-use site that makes money from advertising. We have a modified experience for viewers using ad blockers

Wikia is not accessible if you've made further modifications. Remove the custom ad blocker rule(s) and the page will load as expected.