Welcome to the Tekkit Classic Wiki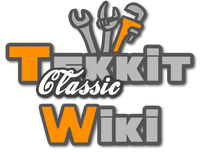 Created by the Technic team, Tekkit Classic is a modpack for the record breaking sandbox construction game Minecraft. It brings together some of the best mods from the Minecraft community for automating, industrializing and powering your worlds and bundles them into one easy download!
Tekkit Classic runs on a base of Minecraft 1.2.5 and has Bukkit inbuilt, so the full range of Bukkit Pluggins are available for server owners.
Please note that this wiki only covers Tekkit Classic. It does not cover Tekkit Lite or the latest in the Tekkit series "Tekkit".

Latest Admin Blogs
Yes, you read it correctly! We are looking for some fresh pairs of hands to hel…

Read more >
Latest User Blogs
So, while looking for pages to improve/correct, I came across this page. http:/…

Read more >

Ok, so I was waiting for my UU-Matter to come out of my Mass Fabricator and I w…

Read more >

Hey guys and girls (and adults, teenagers etc.)

When I first started playing Tek…

Read more >

Hello welcome to myself into the world of tekkit, i will be staying for quite a…

Read more >

I don't get those facades. Are they for hiding an entrance? Are they like paint…

Read more >

Ok guys, this would be especially for the admins....the wiki is fully invaded b…

Read more >

This was just about my joining the wiki! I think it looks amazing, so we'll hav…

Read more >

Lets. Get. Down. To. The. Point. (punny!). What tubing system is better? RedPow…

Read more >

Huyro. I am malsf21, not a special person in any means at all. Today, I will br…

Read more >

Today me and my friend mate like a lot of red and dark matter using relays, col…

Read more >
Mods Used in Tekkit (WIP)

Get the Wikia Game Guides App!
Access constantly updated, highly accurate guides and game walkthroughs created and maintained by our community of gaming experts.
DOWNLOAD NOW FOR FREE!
Chat
Join the Chat
Download

You must have a premium Minecraft account, before you can play Tekkit. Once you have that, go and download the Technic Platform to get started.
Latest Activity
2 nuclear reactors, every filled with 6 uranium cells.
comment by REPRO CZ 2 hours ago

| | |
| --- | --- |
| | 2 nuclear reactors, every filled with 6 uranium cells.Added by REPRO CZ  |

Battery of 8 MFSUs and mass fabricator.
comment by REPRO CZ 3 hours ago

| | |
| --- | --- |
| | Battery of 8 MFSU with detectors of full and mass fabricator.Added by REPRO CZ  |

Stopping By to Say Hi

You can leave other users messages by clicking "Leave message" on their talk page.Ask for help, thank them for their work, or just say hi!

Brick (Block)
edited by TheBrickKeeper 12 hours ago
Extractor
edited by A Wikia contributor 14 hours ago
Extractor
edited by A Wikia contributor 14 hours ago

| | |
| --- | --- |
| Edited the section: | Recipe |

Copper to Iron Chest Upgrade
edited by A Wikia contributor 18 hours ago

| | |
| --- | --- |
| Edited the section: | Recipe |

Trade-O-Mat
edited by A Wikia contributor 20 hours ago

| | |
| --- | --- |
| Edited the section: | Usage |

Nano Saber
edited by A Wikia contributor 1 day ago
Philosopher's Stone
edited by Malsf21 1 day ago

| | |
| --- | --- |
| Summary: | Removed Advertising for Yotube |
Useful Links
Contributing:
Community:
Other Links: