Welcome to the Tekkit Classic Wiki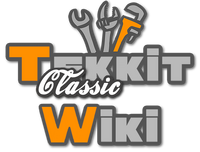 Created by the Technic team, Tekkit Classic is a modpack for the record breaking sandbox construction game Minecraft. It brings together some of the best mods from the Minecraft community for automating, industrializing and powering your worlds and bundles them into one easy download!
Tekkit Classic runs on a base of Minecraft 1.2.5 and has Bukkit inbuilt, so the full range of Bukkit Pluggins are available for server owners.
Please note that this wiki only covers Tekkit Classic. It does not cover Tekkit Lite or the latest in the Tekkit series "Tekkit".

Latest Admin Blogs
Well, well, well... It has been a long time, hasn't it.

I've been away living my…

Read more >
Latest User Blogs
My issue is that tekkit classic, for me, runs a lot slower on a 2016 laptop tha…

Read more >

How to recondition  batteries at home for free? there is an answer on this link…

Read more >

Minecraft Ticks Real Time (mm:ss) Minecraft Time (hh:mm)

Minecraft Daytime 0 to …

Read more >

The table below documents the pull rates of energy-linked wooden transport pipe…

Read more >

So, it's been four months or so since I played on my tekkit world and it's been…

Read more >

I noticed you can't write cyrilic on signs, is that impossible or?

Read more >

I'm not sure what I'm going to be doing here. Mabey cool designs I find, RP2 st…

Read more >

I've been back on this wiki, and the amount of edits still being made is baffli…

Read more >

Hey folks,

I want to build an automatic machine run by a computer. The only prob…

Read more >

Today I made a large solar array using 30 HV arrays.I connected them to a MFSu …

Read more >
Mods Used in Tekkit (WIP)
Latest Activity
User:Simplest
edited by Simplest 1 day ago
Black Hole Chest Sorting?
created by IgnitableZero 5 days ago

| | |
| --- | --- |
| | Just wondering, is there any mod that will allow me to sort the contents into something like name order? If so, which mod is it? I have a bl...  |

Redstone Transport Pipe
edited by DeleeciousCheeps

| | |
| --- | --- |
| Summary: | Fixed broken crafting grid |

Mining Turtle
edited by Vinyl's Wubs

| | |
| --- | --- |
| Summary: | Added "If the turtles inventory is full, it will return to the surface, and you will have to re-enter the command." |

Dark Matter Pickaxe
edited by AppleDashPoni

| | |
| --- | --- |
| Summary: | Fix random broken section |

Energy Collector
edited by Magnus9865
Vanilla Tools
edited by Dr. Ivo Robotnik

| | |
| --- | --- |
| Summary: | Removed swear words. |

Just the Beginning

Is something missing? Is there a mistake? Don't be shy.
Click the edit button and
you can add to any page!

MFE
edited by RyanTrippyMango
BatBox
edited by RyanTrippyMango
HV Solar Array
edited by RyanTrippyMango

Get the Wikia Game Guides App!
Access constantly updated, highly accurate guides and game walkthroughs created and maintained by our community of gaming experts.
DOWNLOAD NOW FOR FREE!
Chat
0
The Tekkit Classic Wiki
Join the Chat>
Download

You must have a premium Minecraft account, before you can play Tekkit. Once you have that, go and download the Technic Platform to get started.