Welcome to the Tekkit Classic Wiki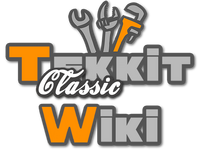 Created by the Technic team, Tekkit Classic is a modpack for the record breaking sandbox construction game Minecraft. It brings together some of the best mods from the Minecraft community for automating, industrializing and powering your worlds and bundles them into one easy download!
Tekkit Classic runs on a base of Minecraft 1.2.5 and has Bukkit inbuilt, so the full range of Bukkit Pluggins are available for server owners.
Please note that this wiki only covers Tekkit Classic. It does not cover Tekkit Lite or the latest in the Tekkit series "Tekkit".

Latest Admin Blogs
Well, well, well... It has been a long time, hasn't it.

I've been away living my…

Read more >
Latest User Blogs
I do not know if this site if just for Tekkit Lite, but I am playing the normal…

Read more >

Hey guys! It's been a long time, but I'm back with some more heavy-duty editing…

Read more >

Okay, so I just have a quick question. I'm wondering where you find the item im…

Read more >

So, I'm planning on making a new article that combines two pages and adds more …

Read more >

If you set this up right, you can have infinite power.

You need:

Read more >

When I was playing Tekkit with a friend, I was standing on a chest and he was c…

Read more >

So, basically, I'm just looking for a mod that will allow me to chop down trees…

Read more >

Okay, so I'm currently running a small Tekkit Classic server. I tried going to …

Read more >

I'm trying to make a custom modpack and use all the mods from Tekkit Classic in…

Read more >

Hi, i have my own tekkit server that me and my friend play on.  it was working …

Read more >
Mods Used in Tekkit (WIP)
Latest Activity
Furnace Cart
edited by Kopcap94 5 hours ago
Furnace Cart
edited by A Wikia contributor 5 hours ago
Antimatter Relay
edited by PomTron 8 hours ago
Tutorial/Automatic Cake Farm
edited by A Wikia contributor 16 hours ago
Wireless Tracker
created by A Wikia contributor 1 day ago

98.196.71.102 wrote:just f*ckin get secret room and put water with a ghost block on top then lava on top of block its safe XDBut this is Tek... 

A Wikia contributor 109.146.70.197

216.179.127.102 wrote:Also, you could lose a pursuer by relogging. This drops your tracker in some obscure wasteland, and you could go on y... 

Ring of Arcana
edited by A Wikia contributor 1 day ago
Emc not generating
created by Patric20878 1 day ago

A Wikia contributor 70.65.47.201

It does not work unless you have the second energy condencer hooked up to the top pipe, not the bottom 

1) Thread is over 5 months old.2) Most servers nerf blaze powder EMC value to stop this kind of easymode emc generation. 

Is there a way for an item coming from pneumatic tubes (using filter) to only fill the spot where an item of that type comes out?
created by Patric20878 1 day ago

| | |
| --- | --- |
| | Not that I know of, sorry. You could use some timing mechanisms so that the reactor only allows in certain materials in certain times, but tha...  |
| | No, but there's no reason to if you're working with nuclear reactors. Fill the first 7 slots with ice stacks, then fill the rest with uran...  |

Dark Matter
edited by A Wikia contributor 2 days ago
frad
created by A Wikia contributor 2 days ago

Get the Wikia Game Guides App!
Access constantly updated, highly accurate guides and game walkthroughs created and maintained by our community of gaming experts.
DOWNLOAD NOW FOR FREE!
Chat
Join the Chat
Download

You must have a premium Minecraft account, before you can play Tekkit. Once you have that, go and download the Technic Platform to get started.