Welcome to the Tekkit Classic Wiki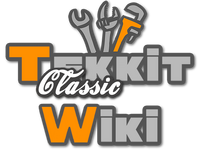 Created by the Technic team, Tekkit Classic is a modpack for the record breaking sandbox construction game Minecraft. It brings together some of the best mods from the Minecraft community for automating, industrializing and powering your worlds and bundles them into one easy download!
Tekkit Classic runs on a base of Minecraft 1.2.5 and has Bukkit inbuilt, so the full range of Bukkit Pluggins are available for server owners.
Please note that this wiki only covers Tekkit Classic. It does not cover Tekkit Lite or the latest in the Tekkit series "Tekkit".

Latest Admin Blogs
Yes, you read it correctly! We are looking for some fresh pairs of hands to hel…

Read more >
Latest User Blogs
So, I'm planning on making a new article that combines two pages and adds more …

Read more >

If you set this up right, you can have infinite power.

You need:

Read more >

When I was playing Tekkit with a friend, I was standing on a chest and he was c…

Read more >

So, basically, I'm just looking for a mod that will allow me to chop down trees…

Read more >

Okay, so I'm currently running a small Tekkit Classic server. I tried going to …

Read more >

I'm trying to make a custom modpack and use all the mods from Tekkit Classic in…

Read more >

Hi, i have my own tekkit server that me and my friend play on.  it was working …

Read more >

Hi fellow gamers, or at least minecrafter's

Read more >

Ding!

Revelation time : 

Today's question : How many of you play cracked tekkit?

… Read more >

Ok, so I'm in a bit of a pickle here. Bascially, I'm trying to run a tekkit cla…

Read more >
Mods Used in Tekkit (WIP)
Get the Wikia Game Guides App!
Access constantly updated, highly accurate guides and game walkthroughs created and maintained by our community of gaming experts.
DOWNLOAD NOW FOR FREE!
Chat
Join the Chat
Download

You must have a premium Minecraft account, before you can play Tekkit. Once you have that, go and download the Technic Platform to get started.
Latest Activity
Tekkit Texture Packs
edited by Splashybard 4 hours ago

Making a Difference

Is something missing? Is there a mistake? Don't be shy.
Click the edit button and
you can add to any page!

Tekkit Texture Packs
edited by A Wikia contributor 8 hours ago

Summary:
‎

Kyctarniq's Tekkit Photo-Based Texture Pack:

Tekkit Texture Packs
edited by A Wikia contributor 8 hours ago

Summary:
‎

Sphax Pure BD Craft:

Tekkit Classic Tutorial
edited by Harrypee 8 hours ago

Explorer

Categories are tags that help readers find similar pages.
Click the Add category button
at the bottom of an article
to list that page in a category.

earned the Explorer badge
Awarded for adding 10 articles to categories!

Successful quick weight loss tips
created by Singhkhan 10 hours ago

| | |
| --- | --- |
| | Sandwiches with 2 boiled eggs, ham and cheese, and an orange Mid-morning (after doing my jog) whey + water + oats Lunch will now be a few macke...  |

Welcome to The Tekkit Classic Wiki!
comment by A Wikia contributor 18 hours ago
Quarry
edited by HighTechLab 18 hours ago

| | |
| --- | --- |
| Summary: | Added a very good video tutorial that will help most people out that are wikiing this. |

Making a Difference

Is something missing? Is there a mistake? Don't be shy.
Click the edit button and
you can add to any page!

Tekkit Classic Tutorial
created by Harrypee 19 hours ago

| | |
| --- | --- |
| New page: | -Note- This page is a combination of three pages: Getting Started, Getting Started with EE2, and Getting Started with Buildcraft. I have not written... |
| Added categories: | IC Machines, Industrial Craft 2 |

Making Your Mark

Is something missing? Is there a mistake? Don't be shy.
Click the edit button and
you can add to any page!

Charging with blutricity
comment by Harrypee 20 hours ago

| | |
| --- | --- |
| Comment: | I connected a Solar Panel to a Bettery Box and put my Sonic Screwdriver in there. Done. |
Useful Links
Contributing:
Community:
Other Links: