Welcome to the Tekkit Classic Wiki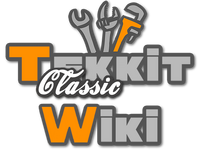 Created by the Technic team, Tekkit Classic is a modpack for the record breaking sandbox construction game Minecraft. It brings together some of the best mods from the Minecraft community for automating, industrializing and powering your worlds and bundles them into one easy download!
Tekkit Classic runs on a base of Minecraft 1.2.5 and has Bukkit inbuilt, so the full range of Bukkit Pluggins are available for server owners.
Please note that this wiki only covers Tekkit Classic. It does not cover Tekkit Lite or the latest in the Tekkit series "Tekkit".

Latest Admin Blogs
Yes, you read it correctly! We are looking for some fresh pairs of hands to hel…

Read more >
Latest User Blogs
Hi, i have my own tekkit server that me and my friend play on.  it was working …

Read more >

Hi fellow gamers, or at least minecrafter's

Read more >

Ding!

Revelation time : 

Today's question : How many of you play cracked tekkit?

… Read more >

Ok, so I'm in a bit of a pickle here. Bascially, I'm trying to run a tekkit cla…

Read more >

Ok, I keep having those shader errors whenever I touch a microblock, any help?

Read more >

Info

Hi guys! I wanna do something fun on this wiki, dont you? Lets start a disc…

Read more >

I crafted a sonic screwdriver for the sake of it being a reference to my favori…

Read more >

I do not know how to fly with gem armour. I tried the normal flight controls bu…

Read more >

Hello. It seems to me that this wiki isn't having a whole lot of activity (whic…

Read more >

So, I can't seem to be able to edit articles in source mode and must instead us…

Read more >
Mods Used in Tekkit (WIP)
Get the Wikia Game Guides App!
Access constantly updated, highly accurate guides and game walkthroughs created and maintained by our community of gaming experts.
DOWNLOAD NOW FOR FREE!
Chat
Join the Chat
Download

You must have a premium Minecraft account, before you can play Tekkit. Once you have that, go and download the Technic Platform to get started.
Latest Activity
Useful Links
Contributing:
Community:
Other Links: