Welcome to the Tekkit Classic Wiki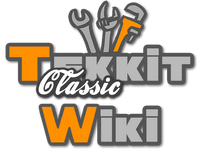 Created by the Technic team, Tekkit Classic is a modpack for the record breaking sandbox construction game Minecraft. It brings together some of the best mods from the Minecraft community for automating, industrializing and powering your worlds and bundles them into one easy download!
Tekkit Classic runs on a base of Minecraft 1.2.5 and has Bukkit inbuilt, so the full range of Bukkit Pluggins are available for server owners.
Please note that this wiki only covers Tekkit Classic. It does not cover Tekkit Lite or the latest in the Tekkit series "Tekkit".

Latest Admin Blogs
Hello everyone! We are seeking expert Tekkit Classic players to represent the T…

Read more >
Latest User Blogs
So, I'm running another tkc server, and I seem to not be able to escape painful…

Read more >

So I've been running a tekkit classic server for some good months with my frien…

Read more >

My issue is that tekkit classic, for me, runs a lot slower on a 2016 laptop tha…

Read more >

So, it's been four months or so since I played on my tekkit world and it's been…

Read more >

I noticed you can't write cyrilic on signs, is that impossible or?

Read more >

I'm not sure what I'm going to be doing here. Mabey cool designs I find, RP2 st…

Read more >

I've been back on this wiki, and the amount of edits still being made is baffli…

Read more >

Hey folks,

I want to build an automatic machine run by a computer. The only prob…

Read more >

Today I made a large solar array using 30 HV arrays.I connected them to a MFSu …

Read more >

What's this About?

This my friends, is about the long awaited ccSensors informat…

Read more >
Mods Used in Tekkit (WIP)
Latest Activity
MaxiaSoft OST Recovery software
created by Mishaalter 3 minutes ago

| | |
| --- | --- |
| | MaxiaSoft OST Recovery software is powerful solution that effortlessly recover corrupted OST file data restore OST file into PST file, EML, ...  |

Strange Glitch....
created by Dgoobler 5 hours ago

| | |
| --- | --- |
| | I've been having a unique problem while playing Tekkit Classic. While playing, my character will freeze up. I can look around, squat, ...  |

MV Transformer
edited by Orx24 3 days ago
User blog:Dr. Ivo Robotnik/Tekkit classic server problems
posted by Dr. Ivo Robotnik 3 days ago

| | |
| --- | --- |
| New blog: | So, I'm running another tkc server, and I seem to not be able to escape painful bugs. This time, it so happens that some items kick me out of the... |
| Summary: | Blog post created or updated. |
| Added category: | Blog posts |

User:Austin.Micheal.Seto
edited by Austin.Micheal.Seto 4 days ago
Nano Saber
edited by Cacher97 5 days ago
Electric Furnace
edited by Cacher97 5 days ago
Raw Carbon Fibre
edited by Cacher97 5 days ago

Get the Fandom Game Guides App!
Access constantly updated, highly accurate guides and game walkthroughs created and maintained by our community of gaming experts.
DOWNLOAD NOW FOR FREE!
Chat
Join the Chat>
Download

You must have a premium Minecraft account, before you can play Tekkit. Once you have that, go and download the Technic Platform to get started.
Ad blocker interference detected!
Wikia is a free-to-use site that makes money from advertising. We have a modified experience for viewers using ad blockers

Wikia is not accessible if you've made further modifications. Remove the custom ad blocker rule(s) and the page will load as expected.