The Synchronizer is a logic gate that functions as 2 RS Latches connected to an AND Gate. When its left or right sides are powered, the corresponding light will turn on and remain on even if the signal it received was a pulse. When both lights are on, it will briefly emit a redstone pulse, and then reset. It will also reset if its middle input is powered.
Recipe
Uses
A Synchronizer can be used similarly to an AND Gate, with one major difference. While an AND Gate requires multiple inputs being powered simultaneously to produce an output signal, a Synchronizer does not because it remembers the pulse it received before the second pulse.
If you try to use an AND Gate with two inputs that pulse instead of having a constant ON state, the inputs have to be sychronized for the AND Gate to emit an output signal. The Synchronizer allows a signal to pass even with inputs that are out of phase.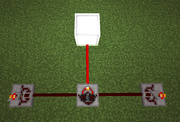 Ad blocker interference detected!
Wikia is a free-to-use site that makes money from advertising. We have a modified experience for viewers using ad blockers

Wikia is not accessible if you've made further modifications. Remove the custom ad blocker rule(s) and the page will load as expected.