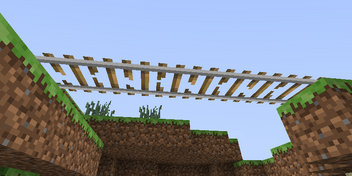 The
Suspended Track
is a track added by
RailCraft
that is capable of crossing a gap four or fewer blocks wide with no support underneath.
A gap of five blocks across will cause the middle rail to pop off as an item. The railbed pieces at intervals will be 'halved off ' or severed to distribute the weight of the car and what ever its holding. To place four Suspended Tracks you must add evenly to each side as attempting to add three on one side will not be possible. Every four Suspended Tracks need two supports on each side.
Recipe
Ad blocker interference detected!
Wikia is a free-to-use site that makes money from advertising. We have a modified experience for viewers using ad blockers

Wikia is not accessible if you've made further modifications. Remove the custom ad blocker rule(s) and the page will load as expected.