Static Boots are used to charge the BatPack, LapPack, or Electric Jetpack, while equipped in the foot slot, at the rate of 1 EU for every 5 blocks traveled. Though, it is terribly inefficient when not used for a long period of time.
A similar item to the Static Boots is the Solar Helmet. This armor item will charge any equipment in the chestplate slot at a rate of 1 EU/t, or 20 EU per second, while exposed to sunlight. Use these items in conjunction for an improved charging rate.
Recipe
Trivia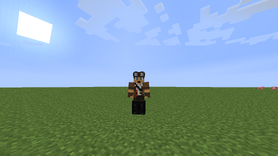 The Static Boots's texture is identical to that of the Rubber Boots.
When using the Static Boots, the player must travel 300,000 blocks to fully charge the BatPack, 1.5 million blocks to fully charge the LapPack, and 150,000 blocks to fully charge the Electric Jetpack. This makes them useful for long hunting trips, but not much else, except that little boost.
Ad blocker interference detected!
Wikia is a free-to-use site that makes money from advertising. We have a modified experience for viewers using ad blockers

Wikia is not accessible if you've made further modifications. Remove the custom ad blocker rule(s) and the page will load as expected.