The Speed Transition Rail boosts a Minecart's speed to a higher speed (2.5 times the speed of normal Minecarts). When powered, the tracks will only speed up a cart in one direction. Carts travelling in the opposite direction will be slowed to normal Minecart speeds. These rails will also cause the Minecart to explode if, by the end of the rails, it is going too fast.
Recipes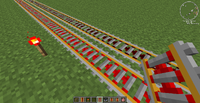 Ad blocker interference detected!
Wikia is a free-to-use site that makes money from advertising. We have a modified experience for viewers using ad blockers

Wikia is not accessible if you've made further modifications. Remove the custom ad blocker rule(s) and the page will load as expected.