Ad blocker interference detected!
Wikia is a free-to-use site that makes money from advertising. We have a modified experience for viewers using ad blockers

Wikia is not accessible if you've made further modifications. Remove the custom ad blocker rule(s) and the page will load as expected.
SensorModule Cards are used to provide a player with custom readings of the surrounding world or blocks. When placed in a Sensor, the cards will retrieve data about the world according to what kind of card is placed in them. Once a sensor has received a card, the different probes can be targeted with UP/DOWN and the readings can be observed with LEFT/RIGHT. Use PAGEUP/PAGEDOWN to scroll.
Sensors that use World, Inventory, and Proximity Cards can be placed anywhere and still function. Those that use other cards must be placed directly next to the target block (they may also be indirectly connected if the Sensor and target are connected by other blocks from the same mod as the target).
See the ccSensors page for information on how to use this with other ccSensors blocks and items.
Sensor Cards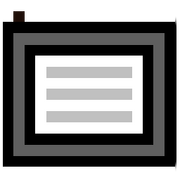 Blank Sensor Card
Used to craft specific sensor cards.
World SensorModule Card
Inventory SensorModule Card
Provides inventory content details.
Examples: Inventory utilization, Full item list, Empty slots
BuildCraft SensorModule Card
Provides data about surrounding Buildcraft blocks.
Examples: Engine heat, Engine fuel level,mining Well/Quarry
IndustrialCraft 2 SensorModule Card
Provides data about surrounding IndustrialCraft2 blocks.
Examples: Reactor heat, MFSU energy Level,Reactor content (Item List)
RedPower2 SensorModule Card
Provides data about surrounding Redpower2 blocks.
Examples:bluetricity levels,furnace status
Forestry SensorModule Card
Provides data about surrounding Forestry blocks.
Examples:engine information, harvesters/planters content
please note forestry isn't in tekkit classic anymore.
Equivalent Exchange SensorModule Card
Provides data about surrounding Equivalent Exchange blocks.
Examples:stored EMC, capacity
Thaumcraft2 SensorModule Card
Provides data about surrounding Thaumcraft2 blocks.
Examples:pure vis/tainted vis amount for all machines using vis,research remaining time
Advanced Power Systems SensorModule Card
Provides data about surrounding Advanced Power Systems blocks.
Examples: PoweredFurnace stored- power,FusionGenerator- temperature,fuel capacity
Proximity SensorModule Card
Provides data about surrounding entities.
Examples: Living Entities within sensor range: Name,Current Health, Distance