The Rose is a Vanilla item that can be be found on grass or by using Bonemeal on a Grass Block. Roses are rarer than Dandelions. The crafting uses for the Rose in Tekkit are for making Rose Red dye and the Harvest Goddess Band.
The Rose can also be used in Cross Breeding. Holding four Roses at once and right-clicking on a Crop will plant all of the Roses.
In Cross Breeding, Roses are considered a Tier 2 plant (Tiers range from 1-8).
When Rose Crops are harvested there is a chance for them to drop Rose Red and/or a Rose Seed Bag.
Usage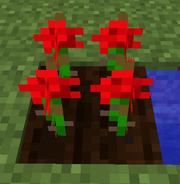 Ad blocker interference detected!
Wikia is a free-to-use site that makes money from advertising. We have a modified experience for viewers using ad blockers

Wikia is not accessible if you've made further modifications. Remove the custom ad blocker rule(s) and the page will load as expected.