Red Matter Armor is an upgraded version of Dark Matter Armor that offers 90% damage reduction to the player, instead of the 80% provided by the Dark Matter Armor. The Armor set can be upgraded into Gem Armor. Confirmed weaknesses to the armor are fall damage, explosions, musket shots, and nukes. It yields a 90% damage reduction and technically gives the player 2000 health points, or 1000 hearts. With a Red Katar, it takes 86 hits to kill a player wearing a full set of Red Matter Armor, and an Active Nano Saber, 100 hits (though, a Nano Saber will probably deplete before 100 hits. A Red Katar is the best melee weapon to defeat a person with this armor.
This armor's only proper weakness is explosions. Hyperkinetic Lens logically makes sense to be their worst nightmare if an opponent wields it, but if the user of the armor is flying, it is reasonably ineffective to an extent, depending on how far the user is from the ground. An (untested) alternative is a mining laser set to explode mode, as it causes equally powerful explosive damage for far less cost to make and fire.
Trivia
In Tekkit 3.1 the Red Matter Leggings show part of a chestplate and boots instead of the Leggings, meaning when fully equipped with Red Matter Armor your legs will be exposed. This does not affect the armor's defensive capabilities in any way.
Recipe
EMC value: 3,031,040
EMC: 4,849,664
EMC: 4,243,456
EMC: 2,424,832
Note: Red matter armor pieces do not have an EMC value in the game.
Usage
Abyss Helmet

Infernal Armor

Gravity Greaves

Hurricane Boots
Video Tutorial
<youtube height=142 width=222> F8DQPaQw3Yw </youtube>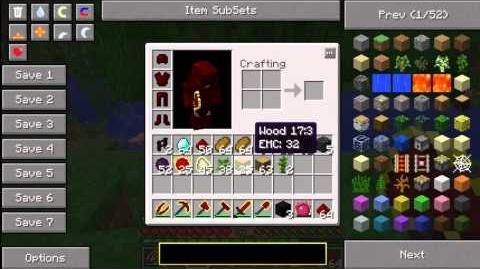 Ad blocker interference detected!
Wikia is a free-to-use site that makes money from advertising. We have a modified experience for viewers using ad blockers

Wikia is not accessible if you've made further modifications. Remove the custom ad blocker rule(s) and the page will load as expected.