Pneumatic Tubes are the dominant item transfer method in RedPower2. Pneumatic Tubes, direct items towards the closest valid destination, or any RedPower-compatible inventory, such as Chests, Deployers, and Furnaces. If an inventory fills up and cannot accept any more items, it will cease to be a valid destination and items will be sent to the next valid destination. If no valid destinations exist, the tube will bounce back the items into the sender inventory. Items without a valid destination will bounce around in the Pneumatic Tubes until one becomes available. Items can be sent through Pneumatic Tubes with various different RedPower Machines, including Filters, Transposers, Sorting Machines, and Block Breakers. Pneumatic Tubes can be separated using covers.
Recipe
Usage
More Info
Although they appear to, Pneumatic Tubes don't connect to BuildCraft Pipes, so separation is unnecessary.
Pneumatic Tubes cannot supply or request items from the Buildcraft Automatic Crafting Table. Instead you must use an Automatic Crafting Table Mk II. 
Items travel faster through Pneumatic Tubes than BC Transport Pipes. Items passing through a BC Golden Transport Pipe will move faster than through Tubes but progressively slow down once reaching Stone or Cobblestone Pipes. The movement speed through Pneumatic Tubes does not slow down.
Video Tutorial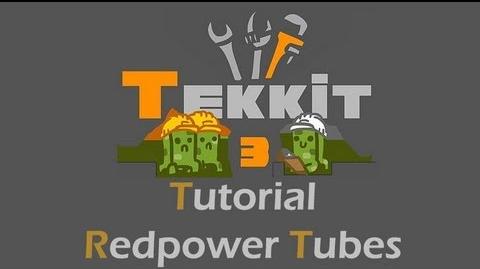 Ad blocker interference detected!
Wikia is a free-to-use site that makes money from advertising. We have a modified experience for viewers using ad blockers

Wikia is not accessible if you've made further modifications. Remove the custom ad blocker rule(s) and the page will load as expected.