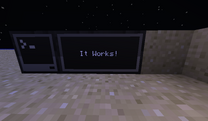 The Peripheral API is used to allow computers to interact with Monitors and turtles.
Methods
| Method Name | Description |
| --- | --- |
| peripheral.wrap(side) | Any command after this is issued to the monitor on the side given. |
Examples:
local m = peripheral.wrap("right")
m.attack()  //based on what peripheral is wrapped, you can attack(), dig() and activate (turtles) or print(), read() and write() (monitors) or fire and ignite (other).
Ad blocker interference detected!
Wikia is a free-to-use site that makes money from advertising. We have a modified experience for viewers using ad blockers

Wikia is not accessible if you've made further modifications. Remove the custom ad blocker rule(s) and the page will load as expected.