The Null Cell is a part of the RedPower2 mod and allows two Redstone signals to cross a single block without interfering with each other. It is very handy when you are crossing two Redstone wires in a compact circuit space.
Recipe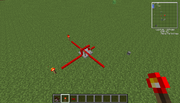 Bugs
A Redstone signal through Redstone Dust will remain on after the power source has been removed (as of Tekkit 3.1.2, see image).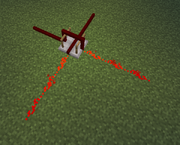 A Redstone signal will carry through the device if one is using Redstone Dust on one side and Red Alloy Wire on the opposite side (as of Tekkit 3.1.2).
Ad blocker interference detected!
Wikia is a free-to-use site that makes money from advertising. We have a modified experience for viewers using ad blockers

Wikia is not accessible if you've made further modifications. Remove the custom ad blocker rule(s) and the page will load as expected.