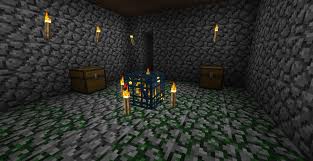 Moss Stone
is a vanilla Minecraft item, found as the floor of Dungeons and used for decoration. It can also be used to craft a
Mob Detector
in
Railcraft
.
Recipe
In Tekkit, it can be "grown" by having Moss Stone next to a regular Cobblestone which in turn is next to running water - as long as the Cobblestone block doesn't get direct sunlight. The best way to generate it is in caves, as the growth will be faster with less light. Usually one Moss Stone is used at the end of a Cobblestone line adjacent to running water, since the moss will spread from block to block. The process can be automated using RedPower 2's Block Breaker, Pistons and Pneumatic Tubes, as long as there is a steady supply of Cobblestone, which can be replaced manually, with Deployers or by joining water and lava. 
Another, more energy expensive way of creating Moss Stone is by crafting UU-Matter into Mossy Cobblestone using this recipe:
Usage
Ad blocker interference detected!
Wikia is a free-to-use site that makes money from advertising. We have a modified experience for viewers using ad blockers

Wikia is not accessible if you've made further modifications. Remove the custom ad blocker rule(s) and the page will load as expected.