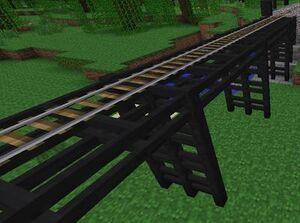 Metal Posts are a versatile block that can be used for many different purposes. These include but are not limited to Signal Mounting Brackets, Bridges, Trestles, Fences, and Support Pillars.
Metal Posts are unique in that they can be painted many different colors. By default, raw Metal Posts come in a rusty red color, however any kind of Dye can be used to produce painted Metal Posts. The downside being that removing a painted Iron Post will result once again in a raw Metal Post.
Sina proasta
Removing any type of metal post using a Wrench (Electric or Bronze) gives you block #209 "Unnamed". This item cannot be crafted into dyed posts if combined with the original Metal Post.
Recipes
Painting

Metal Posts can be colored using all of the standard dyes. To craft, place
any color
of metal posts around the desired dye in a crafting grid.
Ad blocker interference detected!
Wikia is a free-to-use site that makes money from advertising. We have a modified experience for viewers using ad blockers

Wikia is not accessible if you've made further modifications. Remove the custom ad blocker rule(s) and the page will load as expected.