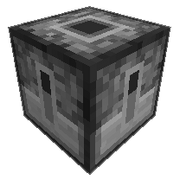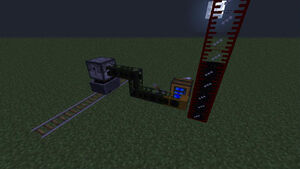 The Liquid Loader and Liquid Unloader function is a similar way to Item Loaders; however, they're designed to work with the Tank Carts. They have an internal capacity equal to one bucket. Liquid can be pumped out of the unloader with a Waterproof Wooden Pipe and a Buildcraft Engine. Additionally, if you put a bucket in the Filter slot of the GUI, the Unloader will only empty carts carrying the same liquid as the bucket.
Both Loader and Unloader will use Stone Pressure Plates if Detectors are unavailable. The blocks look similar, but have a different top texture.
The Liquid Loaders and Unloaders both have a GUI. By changing the settings you can make them either stop and wait for your completely empty Tank Cart to fill to the brim, or for it just to fill a tiny amount, then send it on its way.
If the option "Wait if the cart is empty" Is set to false, then empty Tank Carts will pass by without stopping, making the Liquid Loader potentially useless. If it is set to true, then empty carts will stop and fill. If the option "Wait till cart is full" is set to false, then Tank Carts will only fill a tiny amount and then send it away. If it is set to true, then it will wait untill the is filled to the brim, then send it away. An empty Tank Cart takes approximately 60 seconds to completly fill. Two good true/false examples of the "Wait till cart is full option" is that if you set to false and use many different tank carts, then you are sending small amounts of oil very quickly. Though, if you set it to true, then it will transport large amounts of oil very slowly.
The Loader needs to be placed above the Tank Cart, and the Unloader placed below it, otherwise they will not work.
Liquid loaders and unloaders can also be hooked up to a water tank so you can load water in and out of them easily.
Recipe
Loader
Unloader
Ad blocker interference detected!
Wikia is a free-to-use site that makes money from advertising. We have a modified experience for viewers using ad blockers

Wikia is not accessible if you've made further modifications. Remove the custom ad blocker rule(s) and the page will load as expected.