The Lava Fabricator is used to generate lava which can be pumped into Combustion Engines or Tanks for later use. It is crafted from a Mass Fabricator.
It accepts a maximum of 250 EU/t, and uses 55,000 EU per bucket of lava produc​ed.
Because a Geothermal Generator produces 20,000 EU per lava bucket fed into it, it is inadvisable to set up a lava power plant using lava fabricators and geothermal generators. However, This can be a useful way to generate EMC, if you have a system which can automatically fill cells and take them to an Energy Condenser
One HV Solar Array, producing 512 EU/t, can power two of these. However, each individual fabricator cannot take the full 512 EU/t, so in order to use the solar array as a power source, you must find a way to split the power between the two fabricators.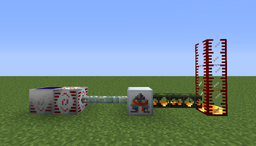 Recipe 
Video Tutorials
Ad blocker interference detected!
Wikia is a free-to-use site that makes money from advertising. We have a modified experience for viewers using ad blockers

Wikia is not accessible if you've made further modifications. Remove the custom ad blocker rule(s) and the page will load as expected.