Launcher Tracks are tracks added by RailCraft that launch a Minecart up in the air when powered with a Redstone signal. The launch force can be changed by right clicking the Launcher Track with a Crowbar. Launch force ranges from 5 to 30.
Note: Fall damage is still active when you land with the Minecart and can actually kill the Minecart occupant if they hit the ground too hard.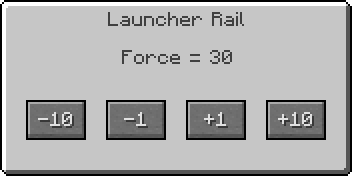 Recipe
Uses
The Launcher Track can be used in conjunction with a Priming Track in order to make a TNT Cart-Cannon for when a TNT Cart is passed over it. The Priming Track is also adjusted by right clicking with a Crowbar.
Ad blocker interference detected!
Wikia is a free-to-use site that makes money from advertising. We have a modified experience for viewers using ad blockers

Wikia is not accessible if you've made further modifications. Remove the custom ad blocker rule(s) and the page will load as expected.