The Lapotron Crystal can store 1,000,000 EU. The light on the Lapotron Crystal changes. It is created with Lapis Lazuli, an Energy Crystal, and Electronic Circuits. A MK3 Charging Bench and MFSU are capable of charging and discharging the power of the crystal, and an HV Solar Array can charge them. It is a upgrade to the Energy Crystal.
Recipe
Note: The Energy Crystal does not have to be charged, but upon crafting with a partially charged or fully charged Energy Crystal the EU will pass on to the Lapotron Crystal, in most cases.
Usage
Quantum Armor
Note: The lapotron crystal must be fully charged.
Raw Materials
The raw materials required for a Lapotron Crystal are as follows:
That is the equivalent of 15,454 EMC.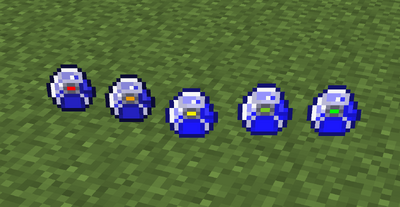 Ad blocker interference detected!
Wikia is a free-to-use site that makes money from advertising. We have a modified experience for viewers using ad blockers

Wikia is not accessible if you've made further modifications. Remove the custom ad blocker rule(s) and the page will load as expected.