The Invert Cell is used in RedPower Logic circuits. It acts much like a NOT Gate where the state of the upper wire is always opposite to the state of the lower wire. The sides to the lower wire are an input or output, depending on which direction the current is running and is off by default. The sides to the upper wire are the output which are on by default. When powered, the upper wire turns off.
Recipe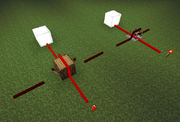 The vanilla version of the Invert Cell is like an inverter with two Redstone Torches on the sides with the wire continuing over the block to the opposite side (see comparison image to the right).
Uses
The Invert Cell could be used with a piston door setup where pistons on both sides of the door are powered by default by their connection to the output sides of the invert cell, thus the door is closed. A pressure plate is connected to the input of the Invert Cell and when stepped on will turn off the outputs and open the door.
The Invert Cell could be used with Mass Fabricators and an MFSU. The MFSU is set to emit a redstone signal when partially filled, that is connected to the input of the Invert Cell, and the Mass Fabricators are connected to the outputs. This will turn off the Mass Fabricators when power gets low in the MFSU.
Ad blocker interference detected!
Wikia is a free-to-use site that makes money from advertising. We have a modified experience for viewers using ad blockers

Wikia is not accessible if you've made further modifications. Remove the custom ad blocker rule(s) and the page will load as expected.