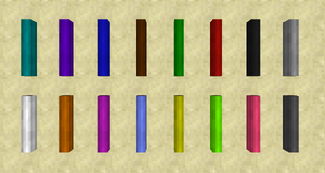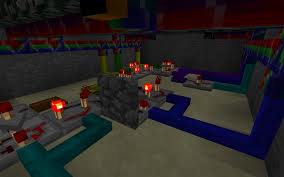 Insulated Wire
functions the same way as Redstone Wire and
Red Alloy Wire
and is used for compacted redstone circuits and wiring, as different colors of insulated wire don't connect to each other. This means that multiple lines of insulated wire can be run parallel to each other without connecting. Insulated Wire will also connect to 
Bundled Cables
. To craft this, simply wrap some wire in insulating wool. Use any color of wool, and the wire will match.
Recipe
NOTE: Any type of wool may be used to change the color of the wire. You can also combine a dye with an insulated wire to change its color.
Usage
When connecting machines or circuits that are close to each other and need to be powered separately, Insulated Wires are a good solution as different colored Wires will not cross.
Bundled Cables can also be used to take many individual signals to a location and then Insulated Wire is used to make the end connections to the appropriate circuit or source with the same colored Wire.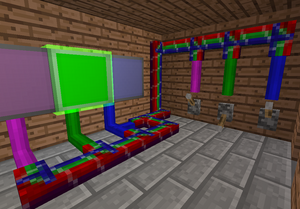 Videos
Sources
Ad blocker interference detected!
Wikia is a free-to-use site that makes money from advertising. We have a modified experience for viewers using ad blockers

Wikia is not accessible if you've made further modifications. Remove the custom ad blocker rule(s) and the page will load as expected.