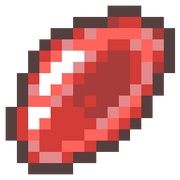 The
Hyperkinetic Lens
is a tool that launches a sphere of energy which explodes on impact. Any blocks caught in the explosion are collected into a
Loot Ball
and deposited at the area of the explosion. The size of the explosion depends on the charge of the Hyperkinetic Lens.
Charge Level 0 - Radius: 1, very small, 1 glowstone dust.
Charge Level 1 - Radius: 1.66, still small, 2 glowstone dust.
Charge Level 2 - Radius: 2.33, average, 4 glowstone dust.
Charge Level 3 - Radius: 3, rather large, 6 glowstone dust.
The lens does fairly potent damage to mobs AND players, including the player using it. Be mindful when using it at close range.
6 x 8,192 (Diamond) + 2 x 139,264 (Dark Matter) + 1506 (Nova Catalyst) = 329,186 EMC each.
Recipe
Usage
Gallery
Ad blocker interference detected!
Wikia is a free-to-use site that makes money from advertising. We have a modified experience for viewers using ad blockers

Wikia is not accessible if you've made further modifications. Remove the custom ad blocker rule(s) and the page will load as expected.