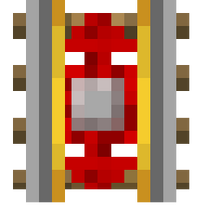 The
Holding Track
is a track that will stop any
Minecart
passing over it and hold it in place when not currently powered by a redstone signal. The cart cannot be pushed off.
When powered, these rails act just like standard Powered Track. This rail is very similar to the Boarding Rail, but the only difference is that the rail will launch the cart in the direction it was traveling upon arrival rather than a set direction.
There are two versions of this rail, the standard cart version that is designed to grab and release a single cart, and the train version designed to grab and release entire trains of linked carts.
Recipes
Cart version
Train version
Bugs
The Train Holding Cart variety doesn't function any differently than the Cart Holding Track, grabbing the first cart in a train (tested with a Furnace Cart and 10 standard minecarts).
The holding track appears to remember the direction it has boosted a cart in even if redstone power is removed. The only way to get it to boost in the correct direction once it has already boosted a cart is for it to be unpowered when a new cart arrives.
Ad blocker interference detected!
Wikia is a free-to-use site that makes money from advertising. We have a modified experience for viewers using ad blockers

Wikia is not accessible if you've made further modifications. Remove the custom ad blocker rule(s) and the page will load as expected.