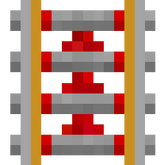 This is a high-speed track from the RailCraft mod.
The HS Transition Track slows down when the arrow is opposite to the direction it is going, it is used to slow down carts traveling the direction it was going. These tracks are essential to the end of any high speed rail system. If a minecart traveling at full speed on a high speed rail comes in contact with a normal rail, it explodes. These tracks prevent the explosions from happening, saving lives and resources.
Recipe
Ad blocker interference detected!
Wikia is a free-to-use site that makes money from advertising. We have a modified experience for viewers using ad blockers

Wikia is not accessible if you've made further modifications. Remove the custom ad blocker rule(s) and the page will load as expected.