Glass is a vanilla block obtained from smelting Sand. It can be crafted with Advanced Alloy to make Reinforced Glass or crafted with a Diamond Chest to make a Crystal Chest. It can also be combined with Redstone and different coloured Lumar to create different coloured Lamps.
Recipe
Usage
Vanilla
Glass Bottle
Industrialcraft
BuildCraft
Advanced Wooden Transport Pipe
RedPower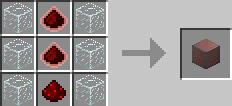 Equivalent Exchange
ComputerCraft
IndustrialCraft 2 Sensor Module
Equivilant Exchange Sensor Module
Advanced Power Systems Sensor Module
RailCraft
Iron Chests
Diamond to Crystal Chest Upgrade
Ad blocker interference detected!
Wikia is a free-to-use site that makes money from advertising. We have a modified experience for viewers using ad blockers

Wikia is not accessible if you've made further modifications. Remove the custom ad blocker rule(s) and the page will load as expected.