| | | |
| --- | --- | --- |
| Ruby | | ID: 1257 |
|  Emerald | | ID: 1257:1 |
| Sapphire | | ID: 1257:2 |
Gems (currently just Rubies, Sapphires, and Emeralds) are added by RedPower. The only use for them (with the exception of Emeralds, which can be used to make the Sonic Screwdriver) is to make tools with the speed of diamond tools with a durability of 500, which is double the durability of iron. They cannot be crafted into armor. An Iron pickaxe or better is required to mine gems.
Each gem is worth 1024 EMC, making for a nice source of EMC, as the ores are rather common.
The Tekkit Emerald is not the same as the vanilla Emerald and cannot be used to trade with villagers as of Minecraft version 1.3.2.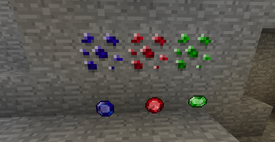 Usage
Every Gem is used to make the following items: Pickaxe, Axe, Shovel, Sword, Hoe, Sickle, Handsaw, and a Gem Block of their respective type. The only exception to this is the Emerald, which is used to craft the Sonic Screwdriver.
Tools
Each of these are made with the same pattern as the the vanilla versions, but using gems rather than materials like iron and diamond. Like the vanilla tools, these are all enchantable. Sickles and Handsaws can also be created using gems.
Gem Blocks
Other
Trivia
In Tekkit Lite and Technic Pack, the Emerald has been renamed the Green Sapphire because an emerald already exists.
Ad blocker interference detected!
Wikia is a free-to-use site that makes money from advertising. We have a modified experience for viewers using ad blockers

Wikia is not accessible if you've made further modifications. Remove the custom ad blocker rule(s) and the page will load as expected.