The Gem of Eternal Density consumes items with an EMC value, starting with the lowest EMC value, every second when active on your hotbar from your inventory, collecting EMC until it has enough to produce the next tier of Matter in this progression:
| | | | | | | | | |
| --- | --- | --- | --- | --- | --- | --- | --- | --- |
| Iron | | Gold | | Diamond | | Dark Matter | | Red Matter |
| | > | | > | | > | | > | |
The Gem of Eternal Density will upgrade to the highest tier of matter it can from the items it collects. This is somewhat of a must-have if you also have the Destruction Catalyst as they work very well together. It also works well on long mining trips, because it saves on inventory space.
If the Gem of Eternal Density is placed in an Alchemical Chest/Alchemy Bag or Energy Condenser it will convert 10 items into their next tier per second. It will also only consume until it reaches a point where it cannot reasonably turn anything inside into anything else.
The Gem of Eternal Density will leave you with a stack of Materials to build with, also has a matrix which will leave certain "essentials" unharmed. If the Gem of Eternal Density does not produce Matter the eaten items are stored internally. You can retrieve them by toggling the Gem of Eternal Density off (by pressing "G").
2 x 64 (Obsidian) + 5 x 8192 (Diamond) + 2 x 139,264 (Dark Matter) = 319,616 EMC each.
Recipe
Note: The
Obsidian
and
Dark Matter
can be switched around.
Usage
Trivia
Can be utilized as a slow, but effective, condenser if hooked up to redpower Block Breakers. However, Condensers are better, less expensive, and more useful overall.
Bugs
If you mine netherrack in nether while the gem is on and return to overworld turning gem off you will get cobblestone.
Sometimes the gem stops consuming cobblestone. This can be fixed by turning the gem off and back on.
Pressing R with the gem anywhere in your inventory while it is closed, then re-opening your inventory causes your cursor to hold the gem.
Some items that contain EMC but are not part of EE2 or vanilla will not be recognized by the item and might not work.
<a href="./File:How_to_Tekkit_-_Swiftwolf's_Rending_Gale,_Void_Ring_and_Destruction_Catalyst">
</a>
<a href="./File:Teaching_Magic_Gem_of_Eternal_Density">
</a>
<a href="./File:Minecraft_Technic_Part_29_The_Gem_of_Eternal_Density,_Blackhole_Ring_and_the_Alchemy_Bag!">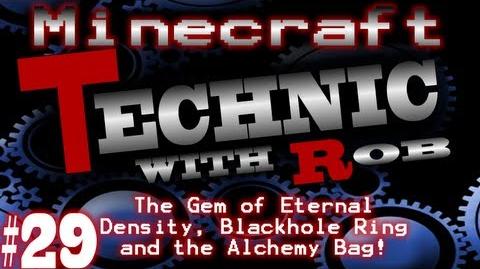 </a>
<a href="./File:Gem_of_Eternal_Density_Tutorial_Tekkit">
</a>
Ad blocker interference detected!
Wikia is a free-to-use site that makes money from advertising. We have a modified experience for viewers using ad blockers

Wikia is not accessible if you've made further modifications. Remove the custom ad blocker rule(s) and the page will load as expected.