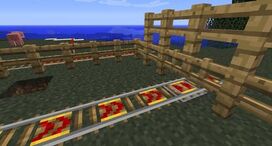 Gated Track functions as a fence gate. They can be opened/closed manually or via Redstone.
One-Way Gates boost the minecart through the gate in order to prevent it from being pushed backwards by any animals in the area.
Recipes
Gated Rail :
One-Way Gated Rail :
Hints
Using a Crowbar on the rail will reverse the direction the gate opens.
Make the fence double tall near gates or else animals can climb on the minecart and jump the fence.
Use Control Rails to keep carts from stalling when crowded by animals.
Place a Detector block, facing up, under the rail to automatically open the gate.
Ad blocker interference detected!
Wikia is a free-to-use site that makes money from advertising. We have a modified experience for viewers using ad blockers

Wikia is not accessible if you've made further modifications. Remove the custom ad blocker rule(s) and the page will load as expected.