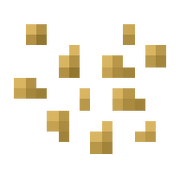 Flax Seeds
can be obtained by breaking tall
Grass
or by harvesting fully grown
Flax
plants. When tall grass is broken there is a chance of dropping either Flax Seeds or Wheat Seeds. Flax Seeds can be planted on hydrated Farmland to grow
Flax
, a plant that produces
String
when harvested. Unlike Wheat, Flax can only be planted on hydrated farmland, which means the farmland must be within four blocks of a block of Water.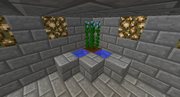 Flax is 2 blocks tall when fully grown, and can take up to 10 Minecraft days to grow. The Flax plant is sometimes used as a decoration block, like in this picture. Flax Seeds cannot be used in Cross Breeding. Flax Seeds can be used to construct automated EMC farms. These cost 4 EMC per seed. 
Usage
Ad blocker interference detected!
Wikia is a free-to-use site that makes money from advertising. We have a modified experience for viewers using ad blockers

Wikia is not accessible if you've made further modifications. Remove the custom ad blocker rule(s) and the page will load as expected.