The Energy Storage Upgrade is one of 3 Upgrades that can be placed in IndustrialCraft machines. The Energy Storage Upgrade increases a machine's internal storage by 10,000 EU.
The Energy Storage Upgrade can be used in the following machines:
Recipe
Usage
The Energy Storage Upgrade can be used in conjunction with the Overclocker Upgrade to provide machines with more internal power storage when completing operations at a faster rate. Overclocker Upgrades cause machines to use more power per cycle, thus drawing power from their internal storage faster than the maxiumum input can keep up.
Video Tutorial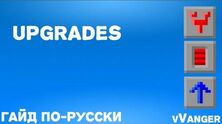 Ad blocker interference detected!
Wikia is a free-to-use site that makes money from advertising. We have a modified experience for viewers using ad blockers

Wikia is not accessible if you've made further modifications. Remove the custom ad blocker rule(s) and the page will load as expected.