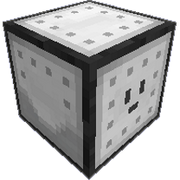 The
Energy Loader
and
Energy Unloader
are used to provide an interface between
EU
and Energy Carts, such as the
BatBox Cart
,
MFE Cart
, and
MFSU Cart
. They possess a number of advanced features unique to IC2 machines. By default they input and output at 512 EU/t. When one of the selected options triggers, it sends out a Redstone current allowing for launch from a
Holding Rail
or
Boarding Rail
. The front of the Loader/Unloader must be facing the cart to charge or discharge.
It is possible to upgrade the storage of any Loader/Unloader with a Lapotron Loader Upgrade.
The Energy Loader and Energy Unloader are similar in appearance with a slightly different texture on the side.
Overclocking an energy loader will cause the rate to decrease.
Recipes
Loader
Unloader
Ad blocker interference detected!
Wikia is a free-to-use site that makes money from advertising. We have a modified experience for viewers using ad blockers

Wikia is not accessible if you've made further modifications. Remove the custom ad blocker rule(s) and the page will load as expected.