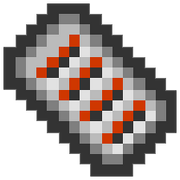 The
Energy Array Location Card
is an item from the
Nuclear Control
Mod which provides detailed information about
IC2
Energy Storage Devices, such as the
BatBox
,
MFE Unit
and the
MFSU
. It allows the
Industrial Information Panel
to display information of multiple energy units on a single panel.
It is crafted by combining 2-6 Energy Sensor Location Cards in a Crafting Table. These cards must have the coordinates of the Energy Units you want to display, attained by right-clicking an Energy Sensor Kit onto a BatBox, etc. (it will not work if you cheat the item in from NEI). When the Energy Array Location Card is put into an Industrial Information Panel, it will display information from each Energy Storage Unit you chose.
Recipe
Above recipe can be made with 2-6 Energy Sensor Locations Cards.
Source
Ad blocker interference detected!
Wikia is a free-to-use site that makes money from advertising. We have a modified experience for viewers using ad blockers

Wikia is not accessible if you've made further modifications. Remove the custom ad blocker rule(s) and the page will load as expected.