The
Elevator Track
is unique in that is can be placed vertically. When powered, it will power all the rails below it.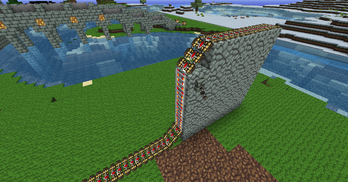 Powered rails will lift
Minecarts
up, unpowered rails will lower minecarts down. When a minecart reaches the top it will be pushed onto any normal rail located on the block above.
The rail also functions as a ladder, regardless of whether it is powered or unpowered.
Recipe
Video Tutorial
Functioning Elevator
Elevator tracks are perfect to build a fully funtioning elevator. The following tutorial comes from a video tutorial by Fumble Brothers.
Components
For control of every floor you will need the following:
You will need a screwdriver for construction.
For each floor you need the following:
Construction - Controlroom
Bugs
In Multiplayer, the cart may get stuck when going up the Booster Track and stay there until moved.
In Tekkit SMP 3.1.3 the cart gets stuck at the top bobbing up and down.
If you watch the video and use the instructions you may experience the cart to go up then right back to floor 1
Ad blocker interference detected!
Wikia is a free-to-use site that makes money from advertising. We have a modified experience for viewers using ad blockers

Wikia is not accessible if you've made further modifications. Remove the custom ad blocker rule(s) and the page will load as expected.