| | |
| --- | --- |
| | This article is in need of a clean-up. You can help out The Tekkit Classic Wiki by re-organizing parts of the article, checking grammar and spelling, and doing other helpful things to correct the article. |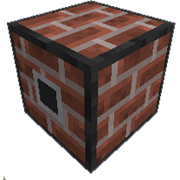 The
Detector - Tank
is part of a series of different rail detectors added by
RailCraft
. The full list of Detectors can be found on the
Detectors
page.
The Detector-Tank will trigger only when a cart with a tank passes by.
It has a GUI for selecting the type of liquid to trigger on and the tank's current liquid level.
Upon opening the GUI you will see a spot for the liquid that will trigger the redstone current. To the left of that you will see a spot for the amount of liquid the cart must have in order to trigger the redstone current. An up-turned empty bracket means it is empty, a bracket with a square means partially full, and a bracket with a rectangle means it is full.
Recipe
Ad blocker interference detected!
Wikia is a free-to-use site that makes money from advertising. We have a modified experience for viewers using ad blockers

Wikia is not accessible if you've made further modifications. Remove the custom ad blocker rule(s) and the page will load as expected.