The Detector is a block from 
RailCraft
that will emit a Redstone pulse whenever a minecart passes over it. It will detect any type of Minecart.
Usage
To be able to make use of this Detector, one should place a rail over the top of the Detector. A Crowbar can be used to change the direction of this Detector. The below picture shows the Detector when off: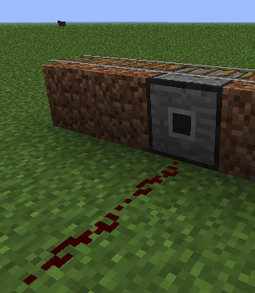 And when triggered:
As you can see, it is very straigthforward to use in comparison with some other Detectors.
Recipe
Ad blocker interference detected!
Wikia is a free-to-use site that makes money from advertising. We have a modified experience for viewers using ad blockers

Wikia is not accessible if you've made further modifications. Remove the custom ad blocker rule(s) and the page will load as expected.