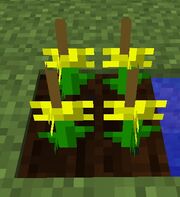 Dandelions
are a Vanilla item that can be be found on
Grass
or by using Bonemeal on a
Grass Block
to grow them. They are more common than
Roses
.
Dandelions
can be used to make
Dandelion Yellow
Dye and for crafting the
Harvest Goddess Band
.
The Dandelion can also be used in Cross Breeding. Holding 4 Dandelions at once and right-clicking on a Crop will plant all 4 Dandelions.
In Cross Breeding, Dandelions are considered a Tier 2 Plant (Tiers range from 1-8).
When Dandelion Crops are harvested, there is a chance for it to drop Dandelion Yellow and/or a Dandelion Seed Bag.
Dandelion Growth Stages:
Usage
Ad blocker interference detected!
Wikia is a free-to-use site that makes money from advertising. We have a modified experience for viewers using ad blockers

Wikia is not accessible if you've made further modifications. Remove the custom ad blocker rule(s) and the page will load as expected.