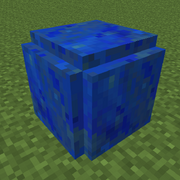 Covers are a type of Micro Block that completely cover the side of the block they are placed on. Two Covers can be crafted by placing a Panel into the crafting grid with a Handsaw above or below it. It can also be crafted by combining two Cover Strips , or four Cover Corners. Covers are the thinnest Sub Blocks (mainly known as Mini Blocks), and can be combined with each other or other Sub Blocks to form Sub Blocks of varying thickness.
Covers can be used as a way to hide Solar Arrays without blocking the sunlight, allowing your solar panels to generate electricity underneath the cover.
Recipe
Usage
These recipes will work regardless of the placement in the crafting grid, as long as the right number is present. Panels, Triple Covers, Slabs, Cover Slabs, Triple Panels, and Anticovers of the same material can by used in place of the number of covers used to create them.