Coal Coke is a fuel element just like normal Coal, but it burns twice as long. Coal Coke is made by putting normal Coal into a Coke Oven, or it can be found in dungeon Chests.
Coal Coke can't be used again in the Coke Oven, nor can it be macerated using a Macerator.
Coal Coke is one of only two fuels that can be used in a Blast Furnace, a stack of 64 Coal Coke is enough to smelt 32 Iron Ingots into Steel Ingots.
Recipe
Making Coal Coke in Tekkit 3.1.2
Making Coal Coke in Tekkit 3.1.3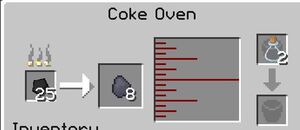 Ad blocker interference detected!
Wikia is a free-to-use site that makes money from advertising. We have a modified experience for viewers using ad blockers

Wikia is not accessible if you've made further modifications. Remove the custom ad blocker rule(s) and the page will load as expected.