Nuclear Reactor
Talk

0
887pages on
this wiki
Category page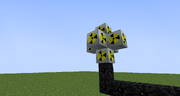 The Nuclear Reactor of Industrial Craft is the ultimate in EU generation, if you can manage to stabilize it.
There are many ways to build a nuclear reactor, some of which are completely safe, and produce plenty of EU.
Video Tutorial
Edit
This video yeilds the most effecient reactor setup, it yeilds the mose EU/t and is completely safe.
Pages in category "Nuclear Reactor"
Subcategories