Nuclear Reactor
Category page
Talk

0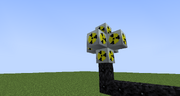 The Nuclear Reactor of Industrial Craft is the ultimate in EU generation, if you can manage to stabilize it.
There are many ways to build a nuclear reactor, some of which are completely safe, and produce plenty of EU.
Video Tutorial
Edit
This video yields the most efficient reactor setup, it yields the most EU/t and is completely safe.
Subcategories
This category has only the following subcategory.
Pages in category "Nuclear Reactor"
The following 20 pages are in this category, out of 20 total.
C

D

I

N

N cont.

R

R cont.

T

U