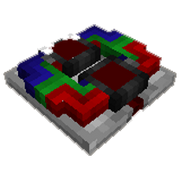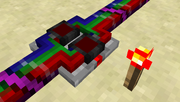 The
Bus Transceiver
can be used to control the
Redstone
signal in a
Bundled Cables
by applying power to the side. Applying power to the right side allows the power to go through it in one direction while power to the other side allows it to go the other way. It also acts as a repeater for bundled cables. The darker red squares also show what colors of the bundled cable have power by lighting up part of it if there is power to the side.
Recipe
Ad blocker interference detected!
Wikia is a free-to-use site that makes money from advertising. We have a modified experience for viewers using ad blockers

Wikia is not accessible if you've made further modifications. Remove the custom ad blocker rule(s) and the page will load as expected.