The Buffer Gate is a Redstone Logic device. When placed, the input is nearest to the player. The other three sides are output only, making this gate a diode much like the Redstone Repeater. The three output squares will only emit a signal if it receives a Redstone signal from its input side, allowing for the creation of one way circuits.
The Buffer Gate can be rotated using the Screwdriver or Sonic Screwdriver by right-clicking. Holding the "shift" key while right-clicking will disable the left or right or both outputs.
Recipe
Usage
It's better to use this device instead of the normal vanilla repeater, if you want to place it in a corner.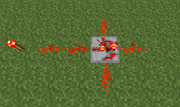 The Buffer Gate also can be used as a repeater with three outputs, as there is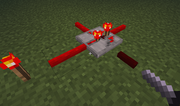 a slight delay between the time when a Redstone current reaches the buffer and when the buffer outputs a redstone current. This delay can be used for a "runway effect" with lights in a pathway.
It could also be used to split a Redstone current into three, great for compact redstone circuits.
Ad blocker interference detected!
Wikia is a free-to-use site that makes money from advertising. We have a modified experience for viewers using ad blockers

Wikia is not accessible if you've made further modifications. Remove the custom ad blocker rule(s) and the page will load as expected.