This article is about the Buffer added by RedPower2. For the Tubestuff version, click here.
The Buffer is a very simple sorting machine, very similar to a Chest with 5 separate compartments. When providing items to the buffer via Pneumatic Tubes, Pipes, or similar devices, each of the 5 input sides will fill a different compartment.
The Input and Output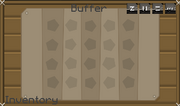 The output side has access to all compartments. This is very useful in combination with a
Sorting Machine
A common application for this block is in situations where different inputs provide their materials at different rates.
A regular chest could easily be filled up by stacks of single items, leaving no space for other resources. 
Recipe
Usage
The GUI for the Buffer shows 5 columns. These correspond to input sides of the machine.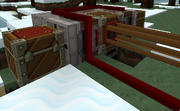 Ad blocker interference detected!
Wikia is a free-to-use site that makes money from advertising. We have a modified experience for viewers using ad blockers

Wikia is not accessible if you've made further modifications. Remove the custom ad blocker rule(s) and the page will load as expected.