A Blulectric Furnace is used to smelt items using Blutricity. It can transfer blulectric power through it, so there can be a whole line of them that all power each other. It can smelt everything a vanilla Furnace can, but at a faster speed and with no fuel consumption.
At full power it takes 4.2 seconds per item, and at its lowest power it takes 5 seconds per item instead of the 10 seconds for the regular Furnace or the 6.5 seconds for the Electric Furnace(no Overclocker Upgrades). Eight Solar Panel (RedPower) along the furnace will keep the power balanced between the generated Blutricity and the usage. The Blulectric Furnace has its own energy storage but it is best to use it alongside a Battery Box. Blue Alloy Wire can be used to transfer Blutricity to the furnace.
For piping, the left side is the input and the right side is the output.
Recipe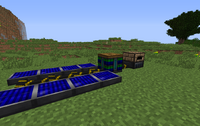 Sources
Ad blocker interference detected!
Wikia is a free-to-use site that makes money from advertising. We have a modified experience for viewers using ad blockers

Wikia is not accessible if you've made further modifications. Remove the custom ad blocker rule(s) and the page will load as expected.